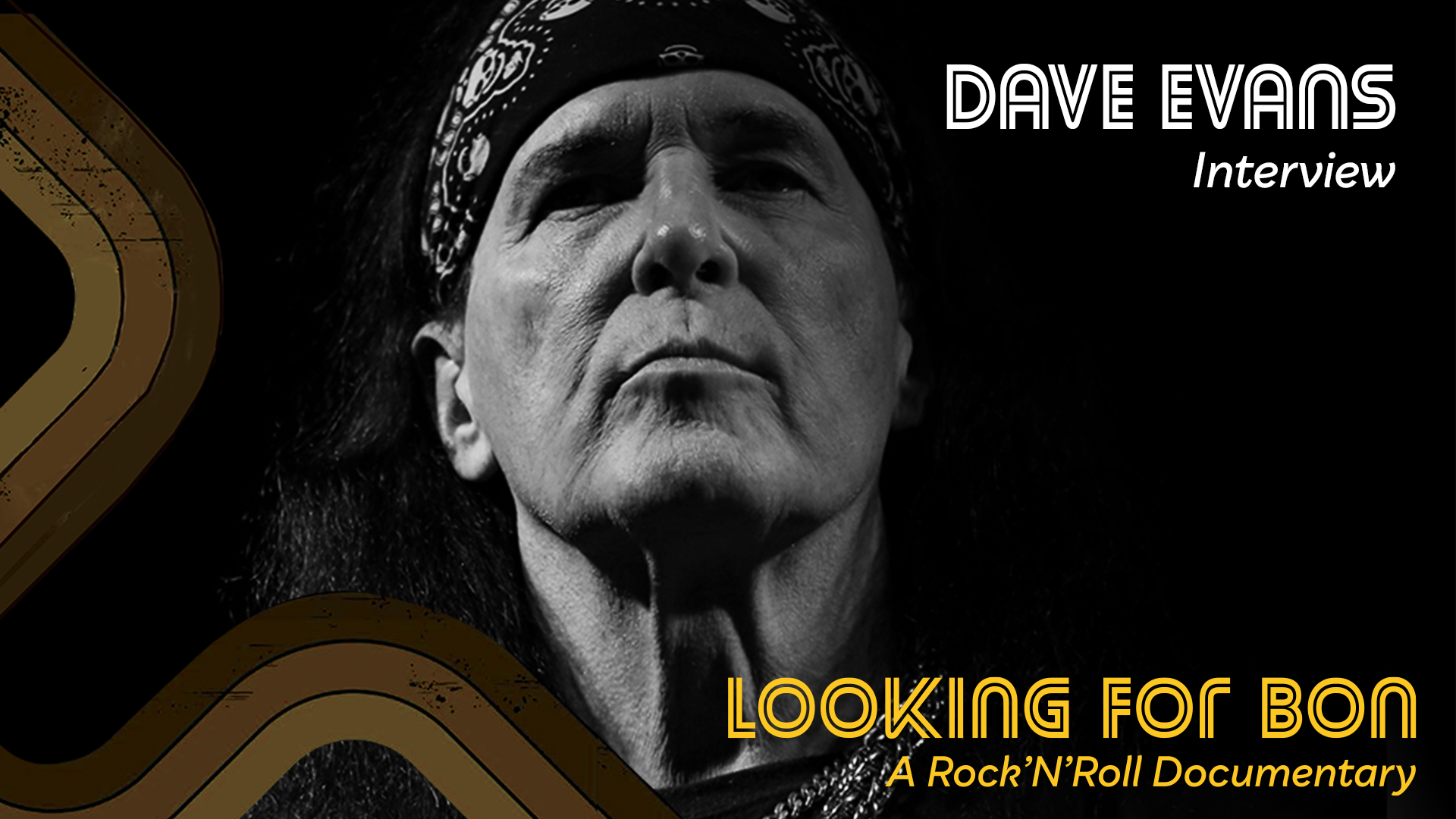 Dave Evans originally arrived in Australia from Carmarthen Wales, aged five, and settled in North Queensland with his family. After forming his first band "In Session" in Charters Towers when he was 17, he moved to Sydney where he helped form a band with Malcolm Young, Colin Burgess and Larry van Kriedt. This band didn't have a name… at least yet! A week later Malcolm's younger brother Angus joined the ensemble. Malcolm and Angus' sister-in-law Sandra came up with the name AC/DC – to signify power and energy – and so one of the greatest rock and roll bands ever was born! Before Bon Scott ever joined the band, they had a vocalist who helped get the ball rolling – and that of course was Dave Evans.
AC/DC's first gig was at Chequers Nightclub in Sydney on New Years Eve 1973, and the band went on to attract a strong live following in the next few months before recording their first single, "Can I Sit Next To You Girl b/w Rocking In The Parlour." This song would prove to be a linchpin for Dave many years in the future…
Around this period of time, Angus started wearing his now-famous schoolboy uniform, and with their single racing up the national charts, AC/DC undertook a gruelling tour. It began at the Sydney Opera House, and then saw the band playing to packed houses all around Australia. Life on the road is tough for any band, and frictions and egos increased steadily until a punch-up between Evans and their manager made life on tour unbearable. A split between Evans and AC/DC became inevitable. Bon Scott was a friend of Malcolm and Angus' elder brother George Young, who was a member of the legendary Easybeats ("Friday On My Mind"), and a well-known Australian record producer with Harry Vanda. George had seen the band perform in Adelaide. He agreed to join AC/DC, which was by this stage, one of the most promising, new and exciting rock bands in Australia. He and the band went on to achieve rock and roll immortality as one of the biggest bands in the world.
But once a rocker, always a rocker: Dave wouldn't quit. After parting ways with AC/DC, Dave Evans moved to Newcastle just north of Sydney and joined up-and-coming hard rock outfit Rabbit in early 1975. Rabbit were already the number one rock band in Newcastle and the surrounding area. Dave had seen them performing at Chequers nightclub in Sydney and was impressed with their confronting stage presence. It wasn't long until they had signed with CBS records and recorded their first album "Rabbit" which had some success. In 1976 they recorded the album "Too Much Rock And Roll," and with their appearances on numerous television pop/rock shows, this album launched them into national popularity.
Rabbit were described as frenetic, violently hedonistic and Dave himself was described as savagely heterosexual. Rabbit after-show parties were always wild affairs and popular with friends, fans and groupies. The "Too Much Rock And Roll" album was then distributed in Japan, Germany, France, Luxembourg, Holland, Finland, Sweden, Norway and Denmark. Although sales were steady Rabbit did not tour these countries as two members left the group after a demanding three month Australian tour. The band continued after adding a new drummer and released the single "Let Me", but it wasn't the same feeling without the two original members, and the band folded in 1978. A new group, Dave Evans and Thunder Down Under, was formed in 1984 and Dave signed with independent label Reaction Records, then released the album "Dave Evans & Thunder Down Under."
After Dave Evans and Thunder Down Under split a couple of years later, Dave pursued an acting career with roles in small production Australian films and working in live theatre. In early 2000, Dave was invited to be a special guest for Melbourne AC/DC tribute band Thunderstruck for their 20th anniversary memorial gig for Bon Scott. This special occasion was recorded live and "A Hell of a Night" was released through Perris Records.
Dave has since launched a successful solo career, proving to his audience that he's a rocker who is worthy of being AC/DC's original vocalist. With thrasher hits like "Badass Boy" and "Who's Gonna Rock Me" that invoke the good old days of early AC/DC under both Dave and Bon, Dave has been turning heads in various rock-loving circles across the globe. In particular, he's found quite a few followers in Latin America, which experienced a 23% growth over the first half of 2022 – outpacing all other markets!
A legendary rocker, former front man from AC/DC, and an unforgettable stage presence, Dave Evans knows the stage and the rock industry at a deeper level than most. He has spent over a decade with LFB adjacent companies such as Blue Pie, and in 2009, he signed a global distribution and publishing agreement with us. The first release for Dave on Blue Pie was his classic rock album "Sinner". The album is widely regarded as a modern day rock and roll masterpiece. The track "Sinner" was nominated at the LA Music Awards for best rock song. The track "Sold my Soul to Rock n Roll" is the first single to be lifted from the album, and has been promoted to radio and media globally since July 2009. While Bon Scott is a face that is very commonly associated with AC/DC, Dave Evans is where the band's vocal style began, and if anyone knows about the formative years of the world's greatest rock band, Dave would be the one!
Interview